Saturday, July 8th, 2023
By Bob Gaydos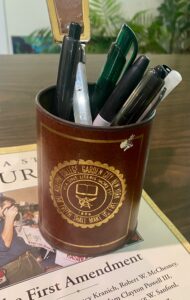 "The truth shall make us free."
   That was the motto of Adelphi College, my alma mater. Still is. Been around since 1896. It's a good one, I think, as mottos go.
    Of course, it's also a bit selective in that, today, it would preclude any loyal Republican from attending or teaching or in any other way participating in activities at such a socialist opponent of  free-speech.
    I know. That makes no sense. But neither do today's Republicans.
    The problem arises today mostly in the minds of Republicans who confuse "free speech" with the right to say anything they feel like, without regard to the truth and certainly without regard to the repercussions of the lack of truth in their statements.
    But that's not the end of it. They also don't want people pointing out the fact that they might be spreading misinformation, or, heaven forbid, even lying. People like social media fact checkers or independent fact checkers or even government employees such as FBI agents or health care officials.
      Republicans have even found a Trump-appointed judge in Louisiana to say that officially for them.
       Last week, Judge Terry A. Doughty granted a preliminary injunction saying the Department of Health and Human Services and the Federal Bureau of Investigation and other government departments must stop communicating with social media companies for "the purpose of urging, encouraging, pressuring or inducing in any manner the removal, deletion, suppression or reduction of content containing protected free speech."    
      "Protected free speech." Like misinformation on Covid-19 or vaccines or election fraud. The judge, whose ruling will be appealed, said the government, which might well have factual information on the matter, should not inform social media platforms about the possibility of dangerous misinformation being spread on their platform.
     Now, much of this fear-mongering, conspiracy spreading and outright lying is caught by independent fact-checkers, be it simply other users or researchers or non-profit agencies. But they say the government agencies have never pressured social media companies to remove content, simply alerted them to possibly dangerous, non-factual content.
     Of course, non-factual content has become the entire Republican Party playbook since it swore allegiance to Donald Trump: Obama's birth certificate, Hillary's emails, Hunter Biden's laptop, Mexico will pay for a wall, COVID's not serious, stolen elections, January 6 didn't happen, the mainstream media lies.
      I'm not aware of any Republican court challenge to the right of the free press to print the truth about Trump et al. It may be a bridge too far right now. Of course, newspapers printed long lists of Trump's lies in office. Not that most Republicans, especially hard core MAGA Republicans, were concerned. They believed the lies. There's the rub.
     A classmate of mine at my high school alma mater, Bayonne High School, has a theory on how even those who recognize the lies can unwittingly help them gain credence.
      If memory serves me correctly, Dr. George Lakoff was valedictorian of the BHS Class of '58, my class. He went on to become a highly regarded cognitive linguist and philosopher at University of California, Berkeley. A smart guy.
     Lakoff says, "Without knowing it, many Democrats, progressives and members of the news media help Donald Trump every day. The way they help him is simple: they spread his message."
    He likens it to telling people not to think about an elephant. They can't get rid of the image.
        "When arguing against the other side," Lakoff says, "don't use their language because it evokes their frame and not the frame you seek to establish. Never repeat their charges! Instead, use your own words and values to reframe the conversation. When you repeat Trump, you help Trump."
       Trump's barrage of outrageous claims has grown with each new report on his criminality and incompetence. It is being buttressed by a coordinated Republican assault on the truth, aimed at schools, think tanks, the news media, as well as the Biden White House.
     Republicans frame it as a fight for the First Amendment. Don't buy it. This is a fight for the truth.
     And the truth shall make us free.
(Adelphi College was founded in 1896. It became a university in 1963, the year I graduated with a degree in English, but not before I graduated, meaning I am part of the last class to receive a diploma that says Adelphi College.)
(Dr. George Lakoff's views on politics, language and your brain can be found at https://substack.com › @framelab).